Yoga
July 5-8 (Thursday dinner-Sunday breakfast)
This program is suitable for most adult skill levels. Some prior practice of yoga is helpful. 
Join Liz for a well-rounded retreat during this yoga weekend at Indralaya. We'll meet Thursday evening for dinner, orientation and an opening circle. Both Friday and Saturday will include an optional silent trail walk, optional morning meditation, 2 yoga practices, and 3 meals. Each morning we'll meet for an invigorating practice to stimulate the physical body and engage all the elements. Practices will include pranayama, mudra and visualization. In the evening, our practices will help us surrender to the natural flow of earth energy – grounding, softening, and relaxing. Our last morning we'll prepare for departure and finish our time together with pranayama, meditation and a closing circle.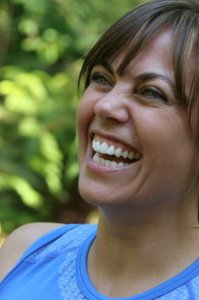 Liz Doyle has a unique way of doing things, and a keen eye for subtleties that catapult her students to the next level. If you're ready for something different and want someone who can uncover your unique strengths, offer you tangible advice to deepen your experience and get real results as a yogi, you've found the right teacher.
Liz has a deep respect for yoga tradition, and at the same time acknowledges that everything must evolve, including yoga. Liz's unconventional perspective on the practice, combined with an uncanny knack for spotting the tiny thing that pulls it all together for you, is what makes her bold approach so effective. Liz has just the right mix of penetrating insight, work ethic and razor-sharp wit to make your yoga practice work for you like never before.
Program fee: $125
Information on housing and meal fees is available here.