Theosophy and the Evolution of World Culture
June 1-4 (Thursday dinner – Sunday breakfast)
Late last November, as we considered a theme for this year's NW Federation meeting it seemed clear, regardless of one's political persuasion, that the results of the recent U.S. Presidential election had initiated a period of great turbulence and disruption.
Our plan for the weekend is to combine contemplative periods with thought provoking presentations and discussions exploring the relationship between theosophical ideas and the world we live in. In the presence of cultural instability, the wisdom tradition of which theosophy is a representation offers valuable help and guidance to each of us.
While we hope participants can attend the entire weekend, we are designing a program that allows those who are only able to arriving beginning on Friday to also benefit from attending. Friday will be a more contemplative day, with time scheduled for both group meditations and individual contemplation. Saturday's program will be more interactive, with discussion and exploration of the insights and strategies that the wisdom tradition offers.
This program coincides with the annual meeting of the NW Federation of the Theosophical Society.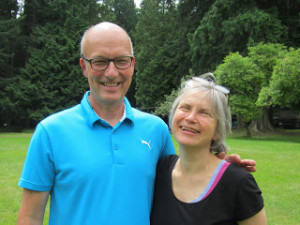 Minor Lile and Leonie Van Gelder will facilitate the weekend.  They have been residents at Indralaya for nearly two decades and active in the theosophical world for even longer.

Program Fee: $100
Information on housing and meal fees is available here.