Sufi Practices to Open Our Heart
May 4-7 (Thursday dinner-Sunday brunch)
The 13th century sage, Rumi, uttered:  "Open the window of your heart. The moon will kiss you only through the window."
In this experiential workshop, participants will explore spiritual insights and techniques to cultivate inner spaciousness in order to experience the fullness of our being. Practices include reflection, meditation, prayer, chanting, fellowship, laughter, and sacred dance.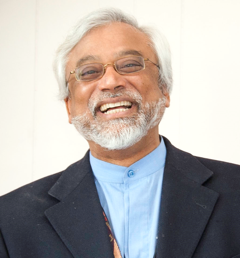 Imam Jamal Rahman is a popular speaker on Islam, Sufi spirituality, and interfaith relations. Along with his Interfaith Amigos, he has been featured in the New York Times, CBS News, BBC, and various NPR programs. Jamal is co-founder and Muslim Sufi minister at Seattle's Interfaith Community Sanctuary and adjunct faculty at Seattle University. He is a former co-host of Interfaith Talk Radio and travels nationally and internationally, presenting at retreats and workshops.
Jamal is the author and co-author of several books, including the latest titled: "Finding Peace through Spiritual Practice: The Interfaith Amigos Guide to Personal, Social and Environmental Healing."
Since 9/11/2001 Jamal has been collaborating regularly and actively with Rabbi Ted Falcon and Pastor Don Mackenzie. Affectionately known as The Interfaith Amigos, they travel the country sharing a message of inclusive spirituality.
Read more about Jamal and his work at: www.jamalrahman.com, interfaithcommunitysanctuary.org,  www.interfaithamigos.com
Program Fee: $100

Information on housing and meal fees is available here.
A complementary practice video is included.