Four Stages of Mindfulness
August 2-5 (Thursday dinner-Sunday breakfast)
Today mindfulness is broadly accepted as an effective method to reduce stress, pain and the effects of burn-out. Mindfulness implies observing our thoughts, feelings and sensations as they are, in a non-judgmental manner, without reacting to or trying to change them. We are thus more aware of the current moment.
The goal of this seminar is to provide participants the knowledge and skills necessary to apply mindfulness meditation principles and techniques in their own lives and in the lives of those around them. The talks address specific relevant topics such as: awareness of the body, reactions to stress, and training in specific mindfulness meditation techniques.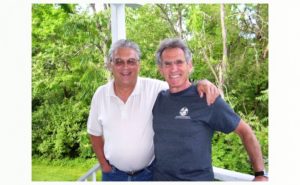 Fernando de Torrijos (left with Kabat-Zinn) became a member of the Theosophical Society in Madrid, Spain in 1977. In 1990 was elected member of the Board of Directors of the Theosophical Society in America. In 1994 he met Jon Kabat-Zinn founder of the world known Mindfulness-Based Stress Reduction Program at the first Body and Soul Conference in Boston, he was invited by Kabat-Zinn to become director and teacher of one of his clinics at the Center for Mindfulness, University of Massachusetts Medical Center in Worcester. In April/May 2016 he did a 9-day MBSR tour with Jon Kabat-Zinn in Spain.
Since 1998 he has conducted Mindfulness-Based Stress Reduction (MBSR) intensive trainings for health professionals and educators in 14 countries.
He has been a life-long student and teacher of the sacred and contemplative traditions of humanity.
Program Fee: $140
Information on housing and meal fees is available here.