Fees, Housing & General Information
HOUSING OPTIONS
We attempt to honor all requests for cabin types and occupancy. Although we make a sincere attempt to do so, we may not always be able to accommodate your first request.
Cabins are assigned on the basis of special need, party size, and cabin type requested.There are times when programs are heavily attended and single-occupancy cabins may not be available. If you are registering for a couple and would like a shared bed, please let us know. There is no charge for children age 5 and under.
All housing fees are per person, per night, and include all meals. Meals not eaten at camp are not deducted from the total bill. All rates and fees are in U.S. funds.
Guaranteed single cabin or room option: The stated housing and meal fees are based on sharing a cabin or room with others. We also providing for a limited number of guaranteed single cabins or rooms available on a first come, first served basis for an additional fee of $10/night (non-plumbing), $14/night (plumbing), or $15/night (roundhouse). Please choose 'yes' if you would like a guaranteed single cabin or room if available.
The following housing options are available:
SLEEPING CABINS
Most of our cabins are simple, rustic, and warmed with wood burning stoves or electric heat. They share the use of a nearby bathhouse. Sleeping cabins vary in size and can accommodate from one to six individuals or family members. The daily rate includes all meals.
Adult $55.00
Young Adult (18-25) $43.00
Teen (13-17) $43.00
Children (6-12) $15.00
Guaranteed Single: + $10/night
PLUMBING CABINS
There are eight plumbing cabins. Each has a shower, sink, and toilet. Plumbing cabins vary in size and can accommodate from 2 to 8 people. The daily rate includes all meals.
Adult $75.00
Young Adult (18-25) $75.00
Teen (13-17) $46.00
Children (6-12) $27.00
Guaranteed Single: + $14/night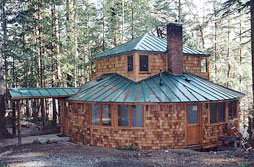 ROUND HOUSE
The Round House has seven sleeping rooms with shared use of 2.5 bathrooms and a commons area. Rooms are both double and single occupancy. The daily rate includes all meals.
Adult $82.00
Young Adult (18-25) $82.00
Teen (13-17) $52.00
Children (6-12) $30.00
Guaranteed Single: + $15 night
RVS AND TRAILERS

We are not set up to easily accommodate RVs and Trailers, but there is limited space available.  There is access to a bathhouse and an electrical outlet.  Please indicate the size of your RV or Trailer on your registration form. The daily rate includes all meals.
Adult $55.00
Young Adult (18-25) $43.00
Teen (13-17) $43.00
Children (6-12) $15.00
TENTING
Another option for participating in camp programs is to bring your own tent and camp on the grounds. As with our other housing options, the fee for tenting includes meals and full use of the camp facilities. The daily rate includes all meals.
Adult $45.00
Young Adult (18-25) $40.00
Teen (13-17) $40.00
Children (6-12) $15.00
BEDDING RENTAL   Please bring your own bedding (sheets, blanket, pillow, sleeping bag, and so forth.) A limited supply of bedding is available for a rental fee of $20.00 per bed. Towels are available for a rental fee of $5.00. The rental fee for pillows is $2.00.
PERSONS RESIDING OFF-SITE are welcome to register for all programs and activities at Indralaya.  Offsite participants pay the program fee and an additional facilities fee to cover their share of ongoing operational costs. Please see the individual program description to determine the applicable fee.  Off-site registrants are welcome to attend meals.  Additional meal fees apply, see below.
PROGRAM FEES are charged for most workshops in addition to the basic lodging and meal fees. All visitors 18 and over will be charged the full program fee for the period of their stay whether attending all, part, or none of the scheduled program. Please see individual programs to determine the applicable fee.
MAKING RESERVATIONS   Online registration is available for all programs. To register online, go to the program page of the program you are interested in and click on the

button for that program.
If you prefer to register via mail, please download, print and complete the Registration Form
PDF Download (91 kB).
A deposit of $70 per person is required at the time of registration. The remaining balance is due upon arrival. If you have to cancel your registration, $20 is refundable if you cancel at least two weeks prior to the beginning of the program and the remainder may be applied to any other program in the same calendar year. The full deposit is nonrefundable if your cancellation is less than two weeks before the program begins. If a program is cancelled or is already full at the time you register, your full deposit will be refunded. There is no deposit for work parties.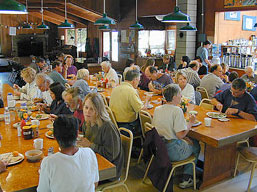 VEGETARIAN MEALS   The daily fees include all meals. Meals are served in our dining hall and are lacto-ovo vegetarian (may include dairy or egg products). Vegan, non-dairy, and non-wheat alternatives are also available. When registering, please tell us about any special dietary needs and we will gladly accommodate you to the best of our ability.
ADDITIONAL MEALS
Breakfast – $10.00; Lunch – $12.50; Dinner – $12.50
FRIENDS OF INDRALAYA AND THEOSOPHICAL SOCIETY MEMBERS receive a 5% discount off all program and housing fees.
CANADIAN FUNDS will be accepted at an exchange rate equivalent to that available at local financial institutions. For the best exchange rate, we recommend using either a Visa or MasterCard or a bank check drawn in US funds.
FINANCIAL ASSISTANCE   It is important to us that no one feel unable to attend a program due to financial circumstances. People with limited financial means can reduce the cost of attending a program at Indralaya by helping on daily staff. Partial scholarships are also available. Please apply for fee assistance by contacting the residents or registrar.
WORK TRADE OPTIONS   The successful operation of our programs relies on volunteer support and guest staffing. Work trade (daily staff) positions are available at all of our regular programs. Program participants age 13 and older are welcome to apply. These positions provide a $25 per day discount in exchange for approximately  3  hours of work each day, and may also include a regular after-meal cleanup assignment.
People on daily staff will be asked to help out where they are most needed. You may find yourself in the kitchen, in the garden, or on bathroom cleanup detail, for example. While we do all we can to avoid conflicts between being on daily staff and fully participating in the program, this is not always possible, particularly for those who are helping in the kitchen. Daily staff positions are often still available upon arrival. Ask the registrar.
FELLOWSHIP STAFF If you would like to pursue a deeper and more intensive commitment to Indralaya, consider applying for a fellowship position. These positions require a minimum commitment of two consecutive weeks. Individuals must be 18 or older to be eligible for a Fellowship position.
Fellowship staff may be assigned to a wide array of duties, which might include cooking, gardening, maintenance, cleaning, transportation, or office work. We are looking for people who are interested in working in a community dedicated to a theosophical way of life. In return for approximately 5 hours work a day with day off per week, Indralaya provides food, housing, and everlasting gratitude in addition to waiving all program expenses. The cooperative spirit and energies of the fellowship staff are essential to making the ideals of Indralaya a reality.
If you are interested, please contact us to request an application form.
PERSONAL RETREATS   Members of the Friends of Indralaya, Theosophical Society members, and individuals who have previously participated in a camp activity and are in harmony with the ideals of Indralaya are eligible to stay at Indralaya for a personal retreat when there is no other program activity scheduled and weather permits. Personal retreat visits need to be scheduled and pre-approved by the resident managers. The basic structure of the personal retreat is as follows:
1. The personal retreat fee is $35 per person per night.
2. People on personal retreat are responsible for supplying their own vegetarian food, transportation, bedding, and other supplies. Meals are prepared in the retreatant's cabin.
3. Retreatants are asked to contribute two hours of work to Indralaya for every night they are in camp. There is an additional charge of $20 per person per night for those choosing not to perform the two hours of work.
PRESENTING PROGRAMS AT INDRALAYA  If you are interested in presenting a program at Indralaya, or have suggestions for possible presenters, please e-mail us.