The Rhythm of Nature – Nature of Rhythm
September 6-9  (Thursday dinner-Sunday breakfast)
At the Rhythm of Nature – Nature of Rhythm Retreat we will revitalize our natural connection with the rhythms of the earth, playing rhythms with the trees, the rivers, the butterflies.
Since the beginning of time, drums and rhythm have been used to celebrate, communicate, and express all that it means to be human and open a channel to the divine connection with the rhythms of life on our planet. Drumming resonates through the body and reconnects us with our deep ancestral roots.
As we drum in Nature, we will bring heightened awareness and keen listening that opens the door to developing a new relationship with ourselves and with the Nature that surrounds us.
Participants will learn to embody rhythms from around the world and discover the energy, nuances, and power available as we bring those rhythms to life. No previous knowledge of drumming is needed. Listening to nature, we will explore sound as if we are the first people on the earth to discover rhythm. Together we will create a sacred place of harmony and deep connection within ourselves, with each other, and with the beauty and wonders of the Earth.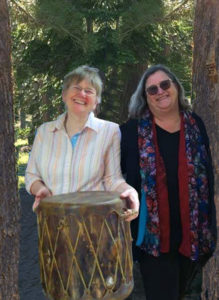 Patricia Hatfield resides and works in the Bay Area (in California), living her passion to bring people together in harmony and full self-expression through music. She leads drumming and music workshops and teaches classes in percussion and rhythm and improvisational music. She is trained in the use of cross-cultural music and sacred sound for health. She has been drumming for 25 years since studying music performance and composition at U.C. Berkeley. She has also studied with African and Afro-Cuban teachers, and has studied Indian Tabla with Swapan Chaudhuri at the Ali Akbar College.
Cheryl Ulrich is an expressive arts coach, musician, and improvisational performer from the San Francisco Bay Area. She leads workshops in The Art of Being, experiential adventures in sound, movement, music and improvisation designed to open people up to their own creativity and wellspring of expression. She has studied at the San Francisco Conservatory of Music and been trained by improvisational leaders Marcia Kimmell of The Next Stage and Mary Knysh of Rhythmic Connections.
Find out more about Patricia at harmonydrumcircles.com.
Find out more about Cheryl's work at BodyPoetic.com.
Program Fee: $125  
Information on housing and meal fees is available here.