Creativity Week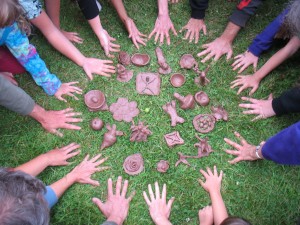 August 3-9 (Thursday dinner-Wednesday breakfast)
Certainly the creativity of nature is our greatest inspiration!
We will spend our time at Indralaya, in the company of the spirits of the natural world, exploring personal and collective creative processes–working in clay, creating manadala, and telling our stories in poetry and prose. There will be opportunities to dive deeper into your experience of any of these art forms and to explore pathways of creativity that may be new to you. Together we will ignite the spark of creativity which is what being human is all about.
Ceramic artist Penny Sharp Sky is joined by Kari Van Gelder, visual artist and sculptor, and Michelle Reed, painter and poet.
Penny Sharp Sky will share her dance with clay and encourage finding ways to create and re-create our world in the dimensions that mud affords! Work with clay is at once grounding and uplifting, relaxing and energizing. It lends itself to both individual exploration and communal creation.
Kari Van Gelder will lead sessions delving into the art, craft and meditative wisdom of the mandala form. Explorations both playful and profound will be encouraged as we study the mechanics of creating mandalas and the rich and varied symbolism that can be brought to this circular form. We'll work on paper, out in the forest, on the beach, individually and collectively.
Michelle Reed will weave the color of words and paint through our days of creation and integration. Bringing words on board will help us to revel in new ways of seeing, of telling stories ancient and new.
Prior drawing, painting, writing, or sculpting experience is not needed to participate fully in this process of discovery.
Program Fee: $125 
(Information on Housing & Meal fees is available here.)