Connections
August 8-13 (Wednesday dinner-Monday breakfast)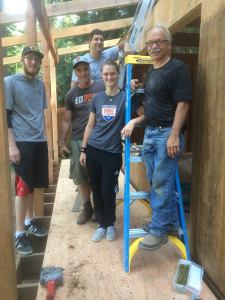 We warmly welcome newcomers and returning campers. Most people participate in the work party component of the week and therefore qualify for the daily staff discount of $30 per day. If you would like to help on daily staff, please indicate this when you register for the program. Whether you can attend the whole program or only a few days, please come.
The Connections program continues its tradition of combining fruitful work projects with lively discussion, meditation, community campfires and play time. The intention is to promote stewardship of the camp facilities and in the process nurture the relationships that connect us all. This kind of dedication and commitment develops through shared experiences of all kinds, including the physical work on behalf of Indralaya that is a centerpiece of Connections. Participants of all ages, genders, and proficiency levels are invited to find a project that fits your interests and abilities – or helps you develop new skills.
Daily inter-generational discussions will be facilitated by program participants.    The program is coordinated by Marilynne Gardner, Rolf Eriksen and David Toren.
As in past years, Connections will also offer work projects, mentoring in construction skills, evening campfires, meditation and time for quiet reflection and an immersion in the spirit and nature of Indralaya. Mentors will be on hand to guide projects, both simple and complex. Please come prepared to share your musical, dance, literary, theatric and comedic talents at evening campfire. The goal of this program is to encourage the unfolding of an innate balance of the spiritual and social aspects of each individual within the context of the community of Indralaya.
Program fee: $30 per day 
Information on housing and meal fees is available here.