Staff Opportunities
Volunteer Staff
Fellowship If you would like to pursue a deeper and more intensive commitment to Indralaya, consider applying for a fellowship position. These positions require a minimum commitment of two consecutive weeks. Individuals must be age 18 or older to be eligible.
Fellowship staff may be assigned to a wide array of duties, which might include cooking, gardening, maintenance, cleaning, or transportation. We are looking for people who are interested in working in a community dedicated to a theosophical way of life.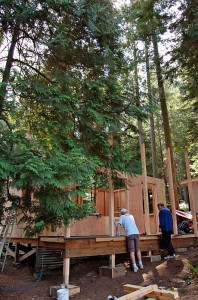 Fellowship staff work approximately 5 hours a day with one full day off each week. In return, Indralaya provides food, housing, and everlasting gratitude in addition to waiving all program expenses. The cooperative spirit and talents of the fellowship staff are essential in making the ideals of Indralaya a reality.
If you are interested in applying to be on fellowship, please contact us to request an application form.
Daily Staff/Work Trade  Visitors attending camp who would like to more fully participate in the community and reduce the cost of participation in a program are encouraged to join us as "daily staff." These positions provide a $25 discount for each day on staff in exchange for approximately 3 hours of work per day, and may also include a regular after-meal cleanup assignment. Daily staff positions are often still available upon arrival. Ask the registrar.