Location and Directions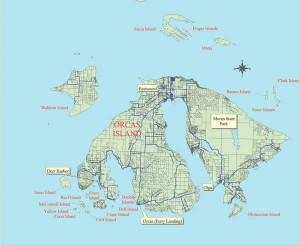 LOCATION
Camp Indralaya is located on Orcas Island, an island in the heart of the Salish Sea in northwest Washington.
Orcas Island is a horseshoe shaped island in the San Juan Islands Archipelago, a group of roughly 250 small islands. These islands stretch to the east and south of Vancouver Island and the Gulf Islands of British Columbia, Canada.
Indralaya is situated on the water approximately two miles southwest of Eastsound, a small village that is the primary business center for the island.
DIRECTIONS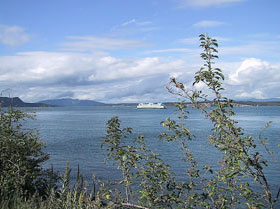 By Car: Take Interstate 5 north from Seattle or south from Bellingham to Burlington. At Burlington, take the State Route 20 exit to Anacortes. Proceed west to Anacortes and follow traffic signs to the San Juan Islands Ferry terminal. Take the ferry boat to Orcas Island. Approximate travel time on the ferry boat is one hour and fifteen minutes.
Ferry traffic is often very heavy and we recommend drivers arrive in Anacortes at least an hour and a half prior to the scheduled departure time.
For current ferry schedule information, please call the Washington State Ferry System at 206-464-6400. Those in Washington may dial 1-888-808-7977 toll free. Or check the ferry system website.
The Washington State Ferries are now requiring vehicle reservations for all sailings to and from Orcas Island. Reservations will be essential for everyone bringing their car to the island and for the return trip from Orcas Island to Anacortes. Reservations are not necessary for walk-on passengers.
We strongly recommend reserving space for your vehicle both to and from Orcas Island as soon as possible.  All programs begin with dinner on the first program day and end with breakfast on the final program.  Arriving on mid-afternoon and departing on mid-morning ferries is ideal.  Ferry reservations are available up to two months prior to the day of sailing. Reservations and more information are available through the Washington State Ferries website.
We appreciate your cooperation in planning accordingly.
After arriving at Orcas Island, turn left after leaving the boat and proceed approximately 6.5 miles. Eventually, you will pass the Orcas Island Golf Club on your right and a large pond on your left.
Just past the pond, turn right on Indralaya Road (look for the Indralaya sign).
Follow the gravel road straight ahead approximately 1/4 mile to the entrance. From there, the road wind through the woods and will rise up a small hill. Follow it past the cabins to the clearing. Pass the garden on the left and proceed to the dining hall for check in.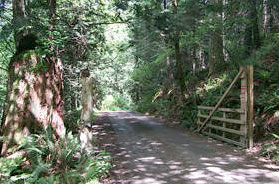 Ferry Pickup: You are welcome to leave your car on the mainland and travel as a walk-on ferry passenger. This helps to avoid long waiting lines and we will meet you at the Orcas Island ferry landing if prior arrangement has been made. Please be advised that parking fees are charged at the ferry terminal on a year-round basis. If you walk on, please let us know at least 24 hours in advance and we will meet your boat.  We do not offer evening pick-ups after 9:00 pm.
Taxi: If needed, there is limited taxi service available on the island.
By Bus: The logistics of getting to Orcas Island by bus can be complicated. Shuttle service directly from SeaTac Airport to the Anacortes ferry landing can be arranged through the Airporter Shuttle.
By Airplane: Air service to Eastsound Airport on Orcas Island is available. Please check the internet or call a travel agent for details.