Food Preparation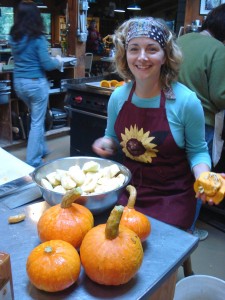 Food preparation at Indralaya has gone through many stages since the first meals were prepared in 1927. One constant is that Indralaya's menu is and always has been vegetarian.
The Indralaya kitchen has evolved into a class-A commercial kitchen with most of the modern conveniences. In the past several years, we've worked toward purchasing foods that are produced in sustainable ways.
All of the grains and legumes that we purchase are organic, as is our coffee – which is also shadegrown and purchased from a fair trade cooperative.
Not all the food that is served is organic, but we obtain as much of our produce as possible from our own organic garden and orchard, and order seasonally from a local organic farm. A few of our current homemade staples include: bread, yogurt, granola, apple juice, applesauce, and fruit compote. Additional foodstuffs are ordered from outside sources. Most of this food is transported by truck onto the island from the mainland and is either delivered to us or we pick it up.
Life in the kitchen, like most activities at Indralaya, is based on volunteerism. Our head cooks and kitchen staff are often program participants as well.
Head cooks are an enthusiastic and creative breed who volunteer to work their magic for a particular program or programs. They develop the menu, supervise the kitchen staff, and get the meals on the table!
The kitchen staff varies from program to program. It is composed of community members on daily or fellowship staff. In many ways, the staff is the backbone of the camp. These volunteers keep things going.
You can see that "alchemy" may be the best term to describe what happens in the kitchen at Indralaya. Mix together community, creativity, enthusiasm, and the desire for service along with the special Indralaya atmosphere, songs, laughter, and meditations, and what do you get? That's right…delicious meals.