Daily Life
The process of being in community is central to the Indralaya experience. At the same time, defining what that community is can be an elusive process. There are families that have been prominent in Indralaya's history, families that continue to play an influential community role today. Yet in a certain sense, Indralaya is also a community that recomposes itself for every activity that occurs here. It is fascinating and wonderful to observe the process of people of all ages and interests coming together as strangers, joining in common purpose or around a common theme, and departing days later with a bond of fellowship established.
There are people who return often and develop a deeper sense of community over time. They may be involved in the work party community, the therapeutic touch community, the family-camp community, the pot-washer community, and other communities that exist here. Their connection with the place is the bond that binds these various gatherings together.
"Community is an expression of our inherent oneness,
Like fingers on a hand or organs in a body,
we perform our various functions for the well-being of the whole organism."
– An Indralaya participant
THE DAILY ROUND
Camp life is generally defined by an orderly progression of events throughout the day. The following summarizes the schedule for a typical program day:
7:00 am – Morning Bell
7:30 am – Morning Meditation (optional)
8:00 am – Breakfast
10:30 am – Morning Program/Discussion
12:30 pm – Lunch
3:00 pm – Afternoon Program (occasional)
6:00 pm – Dinner
8:00 pm – Campfire
Work party weekends are structured differently.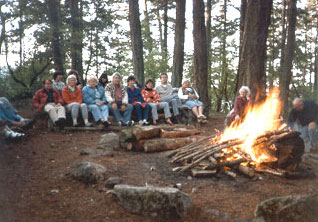 EVENING CAMPFIRES
Evening campfires are frequently a time for relaxing around the fire and enjoying conversation or entertainment.
If you have a talent, skill, or interest (such as poetry reading, storytelling, dance, music, or song), please share them with us.
CHORES
As members of the Indralaya community, everyone is asked to share responsibility for after-meal cleanup as well as other cleaning chores. Visitors are also asked to clean their own cabins at the end of each visit, preparing them for the next guest.
MISCELLANEOUS ITEMS
PLEASE BRING YOUR OWN BEDDING (pillows, sleeping bags, sheets, blankets), towels, a flashlight, and toiletries.
PLEASE DO NOT BRING alcohol, nonprescription drugs, or any food products containing meat, fish, or fowl into the camp.
SMOKING Indralaya is now (as of December 2014) a smoke-free facility. Smoking is not allowed anywhere on the grounds or in any of the facilities.
INCENSE AND CANDLE BURNING ARE NOT ALLOWED in your cabin, other  buildings, or on the grounds due to potential fire hazard and the sensitivities of others during and after your visit.
NO PETS To help provide a sanctuary for the wildlife that calls Indralaya home, no pets are allowed on the grounds.
TELEPHONE A telephone is available for outgoing calls only. It will accept phone company calling cards, collect or local calls. A donation for phone use is greatly appreciated. Please limit cell phone use to non-communal areas such as your cabin or car.
INTERNET ACCESS is available at the public library in Eastsound. We do not provide email or internet service to program participants.